About Trey Roady: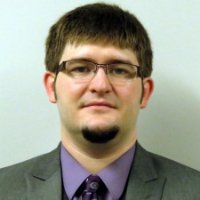 I'ma PhD student in Industrial and Systems Engineering at Texas A&M University with a focus in human factors and cognitive ergonomics. I have a BS in Industrial and Systems Engineering from A&M with a minor in psychology.
In reality, what I do is apply systems thinking to the most complex and unpredictable system of them all: the human mind. I'm fascinated with how design shapes behavior and how individual irrationality can drive both productive and unproductive behaviors.
I'm a student researcher in the Texas A&M Human Factors & Cognitive Systems lab under Dr. Tom Ferris, and am primarily working on the Creative Haptic Interaction At-a-Distance (CHIAD) system. I have served as a departmental teaching assistant and have several years of previous experience as a information technology service technician.
I'm a student member of the Human Factors and Ergonomics Society with membership in the Cognitive Engineering & Decision Making, Perception & Performance, and Product Design technical groups, and currently serve as the Texas A&M University student chapter President.
Personally, I'm a tremendous nerd who loves book collecting, well-designed video games, and homebrewing. I'm also a long-term member and former student development officer of Cepheid Variable, Texas A&M's premiere science fiction, fantasy, etc. fan club. I've participated in AggieCons 39-46, primarily as a security worker, and will be serving AggieCon 47 as Security Officer.
About Eccentric Cog:
Eccentric Cog is a space to share and analyze interesting research, news, and pop-culture from a human factors perspective, with the intent to provide a casual level of shop-talk that is equally accessible and engaging for all.
Human factors is the story of the human in the system, our lives in an increasingly complex world.
Why call it Eccentric Cog?
An eccentric cog is a tool for translating rotational motion into linear motion. It's accomplished by mounting an off-center connection to a gear. In my experience, the best thoughts and observations come from a little off-center and these cognitions can provide a truly unique drive.